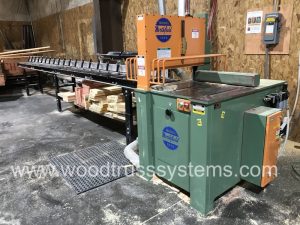 Northfield under table/up-cut saws. These saws are semi-automatic, air-actuated, under-table cutoff saws for 90 degree cutting of wall panel components. The blade remains in the heavy sheet steel base until the guard has the raw material clamped. The guard remains clamped through the cut cycle until the blade is back in the base. This protects the operator from flying debris and any potential kickback during the cutting process.  Basic models include:
Model 208 –  2″ x 8″ capacity with 14″ blade
Model 212 –  2″ x 12″ capacity with 16″ blade
Model 410 –  4″ x 10″ capacity with 18″ blade
Model 612 –  6″ x 12″ capacity with 24″ blade
Model 1012 –  10″ x 12″ capacity with 32″ blade
Other models for larger profile raw materials are available along with multiple options and add-ons for each model.  Northfield saws can be designed for cutting lumber, non-ferrous metals, plastics, and composites.
The Northfield line of woodworking machinery was established in Northfield, Minnesota in 1920, and has enjoyed over 85 years of continuous manufacturing success.  The Northfield line became the leader of intermediate and heavy duty woodworking machinery. The Northfield line was the first to adapt hydraulics to woodworking machinery.  They are currently owned and operated by Northfield Machinery Builders Inc., a diversified manufacturer of custom machinery.