Spida saws and measuring devices are assembled in Indiana by Spida USA.  Spida has customers across the continents of North America, Asia, Australia/Oceania and Europe.  Spida USA has been designing and building high-tech machinery for the wall panel and wood component industries since 1978.
Call us to review listings, videos, and photos of Spida saws, wall panel Extruders or automated measuring devices.
Wood Truss Systems, Inc. (765) 751-9990
Jay Halteman: (765) 744-1516  jayh@woodtechsystems.com
Joe Halteman: (765) 748-0332   joe@woodtechsystems.com
Jim Mavrakes: (817) 291-4999   jim@woodtechsystems.com
Spida Apollo Saw with Automation
The Spida Apollo saw with Automation is a computerized, pull-arm type saw used for cutting either wood truss components or wall panel cutting.  The Spida Apollo is a multi-purpose way to add a computerized saw to your operation.  Regardless of the size of your company, you will always have a use for this saw.  The Spida Apollo features and benefits include:
Angle cutting from 10 to 170 degrees for convenient low-pitch roof slope cutting.
36 inch scarf cut allows long cuts without having to re-position the member on the table.
Patented variable stroke limiter for safety.
Solid frame and arm design minimize stress on the saw.
17 inch industrial touchscreen with enclosure for easy-to-see data and convenient use.
7.5 HP motor, plenty strong for dense lumber material.
Plug and play wiring making installations easier.
Cowls for dust extraction system to minimize clutter near the saw.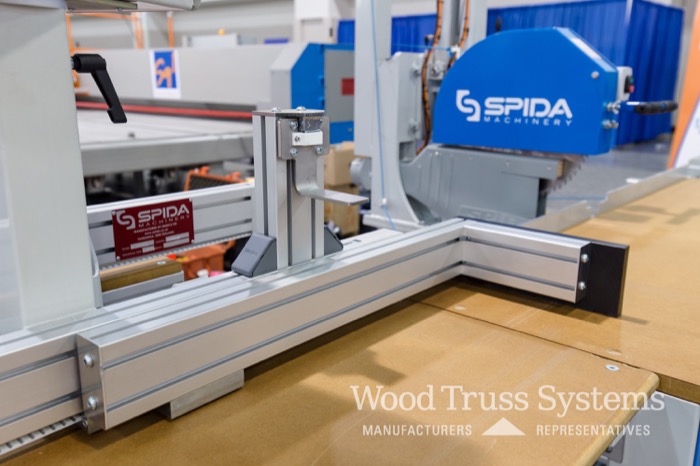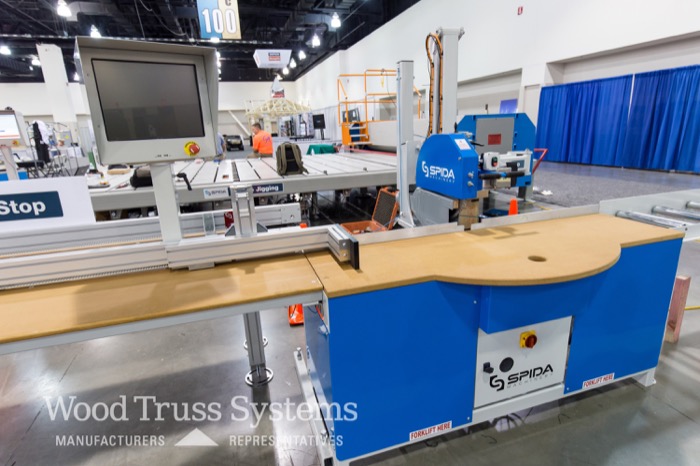 Available options include:
Software is available for both trusses and wall panel cutting as your operation requires.
Laser guide showing exactly the path of the blade before the blade moves.
Safe Grip ™ Clamp for cutting smaller pieces without the lumber shifting, improving safety.
Clamping table holds the lumber safely to the infeed fence.
Plate Marker proving automatic set up for marking the wall panel piece locations.
Chop Saw Table for adding another saw for miter/compound or end cuts, prior to feeding the Spida Apollo saw.
Portable dust extractor works in conjunction with the cowls to minimize dust in the saw area.
Spare blades.
Spida Automated Vector Saw
The Spida Vector saw is a smaller version of the Automated Apollo saw with its 5.5 HP motor, 24 inch maximum scarf cut and adjustable stroke limiter, providing angle cutting from 9 to 171 degrees.  It is ideal for wall panel processing, and 2×4 trusses, It can be outfitted with any of the options shown above.
Either saw is available in 240 v, 20A or 460 v, 15A saw electrical.  110 v, 1 phase, 20A computer electrical required for the computer.
Equipment for sale:
Base Price New Spida fully-automated CNC controlled sheathing station, fastens sheathing to wood frame wall panels from 2×3″ to 2×8″ nominal, in wall heights from 7′ to 12′. Straightens studs…